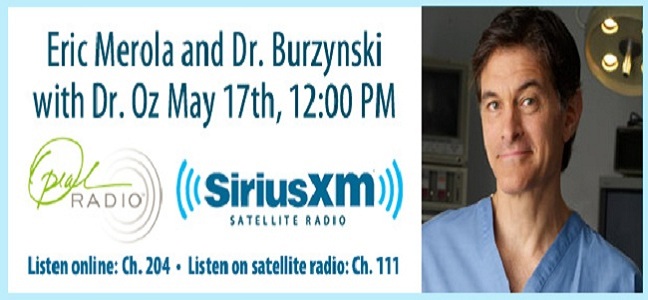 Eric Merola & Dr. Burzynski with Dr. OZ on Oprah Radio
Oprah Radio host Dr. Oz talks with Eric Merola, director of the documentary Burzynski, the Movie, and Dr. Stanislaw Burzynski about the latter's groundbreaking gene-targeted cancer medicines called antineoplastons and his battle against the Food and Drug Administration (FDA).
LISTEN NOW

Mark Wheeler

On Nov 1st 2008, I was diagnosed with Non-Hodgkins Lymphoma, indolent follicular, grade 3, level 4. after the second treatment of the standard treatment of Rituxan and Chop, I ended up in the hospital for a week. I had a fever that would not come down and my bladder had developed stones.Was released but within a short time was back in the hospital. This time my body was full of liquid, could not walk, so I had to use a wheelchair and on constant oxygen. When we were told that I had to have a third treatment immediately, my wife rejected the idea. I was released but one of our doctors at the time said that we were to get hospice immediately and that her decision was going to cost me my life. If there is a glimmer of hope with the Burzynski clinic, that is where we were going. We were ridiculed by the former Dr. as he insisted they would only take our money with absolutely no cure possible and that it was all a hoax.
With the aid of our son, we left for Burzynski Clinic and after Three weeks, I was out of the wheelchair, swelling gone and breathing on my own. I have a dedicated Oncologist in Huntsville who has worked with Dr. Burzynski on his recommendations of different chemo treatments thus saving a lot of traveling to and from TX. We cannot say enough about Dr. Burzynski's treatment, his wonderful staff including Dr. DeLeon, Dr. Kahn, Dr Yea and the list goes on to so many Dr.s. You are welcomed from the receptionist to the whole staff throughout the clinic. Dr. B's chemo NEVER made me sick and NO bad side effects. We have and will recommend his Treatment and his Clinic to one and all.