Laura Jo Hofsess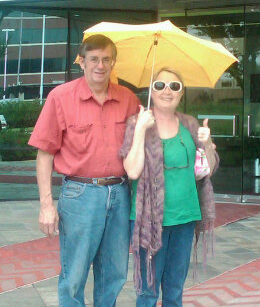 I was an overall-healthy, active 57 year old, running my funeral home businesses and involved on several committees throughout Coos County. When on July 1, 2010, I found myself having a difficult time knowing how to open the door to the store and tell the time from my cell phone. I was advised by family and friends to go see the docter and get checked out. I went to Coquille Hospital ER with complaints of inability to think straight. They ended up doing a brain CT and found a mass. I was whisked away to Oregon Health Sciences University (OHSU) in Portland, OR where more tests were taken to determine what my exact diagnosis was. It was on July 8, 2010 when I was diagnosed with Stage 4 Adenocarcinoma of the Lung, with metastasis to the spine, lymph nodes, and 42 lesions in the brain. My CEA tumor marker level was 41.9. The doctors at OHSU had predicted that I would have 3 weeks to live and if I immediately started Chemotherapy and Radiation I would extend that by a couple of weeks.
My family had already been doing research on other alternatives to the standard cancer treatment. My husband, Larry Hofsess, started 7 years ago when he heard about Dr. Burzynski through Dr. Julian Whitaker. I gave him a hard time about spending so much time following Dr. B's research. He just kept telling me that sometime, someone will need the information and he will be ready. Well that time came, that someone was me, and we needed it now! We didn't hesitate getting an appointment set up with the Burzynski Clinic. I requested to be discharged from the hospital as soon as possible. We didn't even wait around for more radiation oncology consults.
My initial appointment with the clinic was scheduled on July 13. I was immediately started on the Sodium Phenylbutyrate (PB), Amino Care, Aminocare Brain, vitamins and Tarceva. While waiting on biopsy results from OHSU, Dr. Burzynski and Dr. Kubove felt it was necessary to start a low dose radiation series to get the swelling immediately decreased in the brain. They needed the genetic markers from the biopsy to make sure they had me on the best treatment plan according to my elevated cancer genes. They sent me to Dr. Elizabeth Bloom at MD Anderson Radiation Center in Bellaire, TX. I didn't have any standard reactions to the radiation treatment. No burns or soreness at the radiation site, I eventually ended up only losing my hair. Through the surgical biopsies I acquired a staph infection which Dr. Burzynski clinic immediately took action to clear. They kept a close eye on my lab work to make sure that my immune system was not compromised, during any point of the treatment.
At the time of my discharge from the Burzynski Clinic on August 20, 2010 I was taking PB, Amino-Care, Aminocare Brain, Tarceva, Herceptin, and supplemental vitamins. We had set up a doctor in my home town to continue the care that is outlined by the Burzynski Clinic. I continued the treatment at home and was in constant contact with the clinic and doctors regarding my daily progress and any concerns over my health.
As of my last scans in December 2010, my lung lesion is only scarred tissue, the spine and lymph nodes are not visible, and the brain lesions are 60% reduced. I am scheduled for updated scans in May 2011 prior to my trip back to the Burzynski Clinic in June 2011. In a recent blood work draw, my CEA is 1.6. The normal range is less than 2.5 in an adult non-smoker who doesn't have any active cancer.
Thank you Dr. Burzynski, Dr. Kubove and all of the caring staff at the Burzynski Clinic.
>>>>>>>>>>>>>>>>>>>>>>>>>>>>>>>>>>>>
When Laura Jo was diagnosed she was only given a couple of weeks, if even that. We ended up getting almost 2 extra years with her and during that time she had a very good quality of life. We even had to tell her she needed to slow down, stop working and relax. She continued to be very active and was never bedridden from treatment. In her last month, she ended up acquiring pneumonia which resulted in her having difficulty with taking the medicine. That gave her cancer cells the opportunity to go wild and take over. In her last week, she was cognitive and aware, even able to still ambulate with minimal assistance. She passed away very peacefully. I have seen others being treated for cancer and they struggle and deteriorate for months, before passing away. I strongly believe that Dr. B's treatment is very non-toxic and is anyone's best chance at beating cancer with very minimal side effects. Even though we didn't win the battle, mom always felt that Texas was her second birth state because she was given a second life there. She also loved all of the Angel's at Dr. B clinic. They are the most upbeat, helpful, and caring staff. We have made life long connections with them.